Getting started with the ESRS reporting: From 'What' to 'How'
Environmental, Social, and Governance (ESG) reporting has been on a slow, but steady march toward maturity. With the new EU Sustainability Reporting Standards (ESRS) formally adopted by the European Commission (Commission) on 31 July 2023, an earnest step in aligning disclosures across regulation and setting the stage for interoperability of ESG reporting was made.
For the first time ever on an EU-wide level, ESG information and corporate sustainability disclosures will be required to be reported in a standardized, comparable and more consistent format – making high-quality ESG reporting a business norm.
Nearly 50,000 European companies are required to report under ESRS, and non-EU-based companies with a large branch in the bloc. While this marks a significant advancement in addressing corporate greenwashing, it also poses a big challenge for many reporting companies – especially, those that will report on sustainability matters for the first time.
To help you prepare, we have gathered everything you need to know about the ESRS: What is the scope? Which companies are impacted? When must companies disclose sustainability information? And what are our tips to get started?
Read on to find out.
The ESRS are the EU's new mandatory standards that companies under the Corporate Sustainability Reporting Directive (CSRD) must align their reporting to. The objective of the standards is to ensure that in-scope companies provide reliable, comparable, and relevant sustainability data – while at the same time clearly outlining what they are expected to report on.
The standards have been developed by the European Financial Reporting Advisory Group (EFRAG), and the Commission has adopted a delegated regulation. For the first wave of companies, disclosures will be required as early as the 2024 reporting period.
The breakdown of the ESRS Standards
The ESRS package contains the Commission's Delegated Act which sets out two cross-cutting standards and ten topical sustainability standards for the disclosure of environmental, social and governance information. Together they will become binding from 1st January 2024.
ESRS are divided into 12 documents that cover different aspects: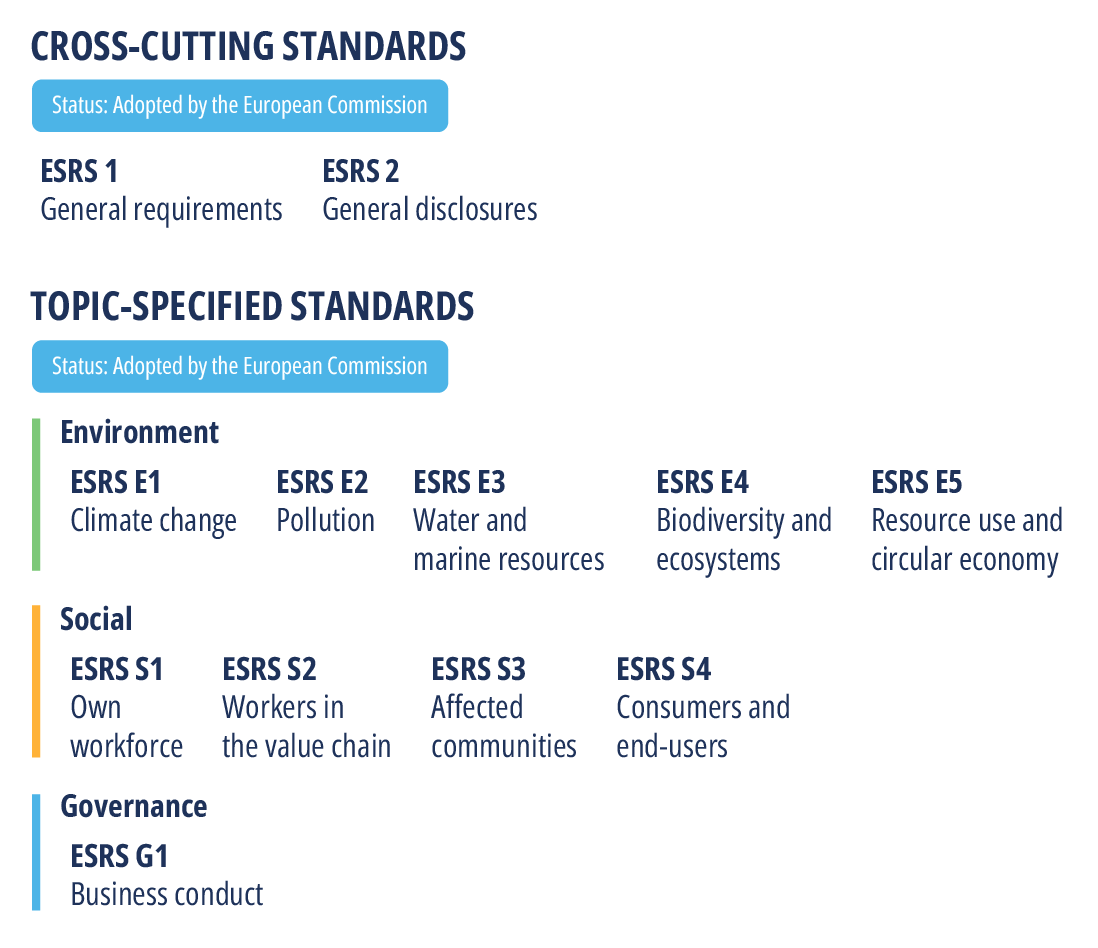 Interoperability between the ISSB and the ESRS
If Europe follows ESRS and the rest of the world aligns with ISSB, there is concern about the existence of two competing standards rather than a unified one – particularly for international companies operating in the EU and in other jurisdictions.
Recognising this issue, the Commission and EFRAG have worked with the International Sustainability Standards Board (ISSB) to increase interoperability between the two frameworks.
It is also worth mentioning that the definition of financial materiality found in ESRS and ISSB Standards is now consistent.
However, companies applying ESRS will not automatically meet the requirements of ISSB Standards. Hence, it is vital to check and compare the differences between the two Standards if both sets of requirements are being applied.
EFRAG and ISSB aimed to continue their joint work on enhancing interoperability between all IFRS S1 & S2 requirements and related ESRS requirements. On 23 August 2023, EFRAG made available the document 'Interoperability between ESRS and ISSB standards' to present the EFRAG's assessment at this stage on the interoperability between standards. The mapping table added to the paper illustrates the high level of interoperability achieved and can assist preparers and users in identifying the ESRS information corresponding to IFRS S1 & S2 requirements in relation to climate.
Double Materiality vs Financial Materiality
Companies will have to report on items considered to be material, taking into account both impacts on people and the environment and (or) financial risks and opportunities.
When it comes to the major difference between both sets of standards the materiality concept steps in. ISSB Sustainability Disclosure Standards (IFRS S1 & IFRS S2) are based on financial materiality only. This means that companies will report on how the environment and the community will affect their business operations and financial standing, so these are "outside-in" effects. Meanwhile, the ESRS require the use of double materiality, which refers both to the impact of a company's activities on people and the environment and its risks and opportunities in terms of financial performance ("outside-in" and "inside-out" effects).

Companies impacted by the ESRS. With some exceptions, in 2024 the CSRD will be applied to all large listed and unlisted companies that meet at least two of the following criteria:
Balance sheet total of more than €20m
Net turnover of more than €40m
Average number of employees during the financial year of more than 500
When must companies disclose sustainability information, according to the ESRS? Compliance with the new reporting regulations will be phased in over time, dependent on the profile of the organisation:
January 2024: companies already subject to the Non-Financial Reporting Directive (reporting in 2025 on 2024 data)
January 2025: large companies not currently subject to the Non-Financial Reporting Directive (reporting in 2026 on 2025 data)
January 2026: listed SMEs and other undertakings (reporting in 2027 on 2026 data)
January 2028: non-EU companies with significant undertakings in the EU (reporting in 2029 on 2028 data)
It is worth noting that some SMEs have been granted three additional years to achieve compliance with the CSRD and may opt out until 2028.
Key changes to the ESRS Standards
All the ESRSs, including all disclosure requirements and data points included within each Standard, are subject to a materiality assessment being made by the reporting entity, except for 'General Disclosures' Standard (ESRS 2). This updated requirement is envisaged to significantly reduce the burden for reporting entities disclosing information under the CSRD.
A draft of the long-awaited Double Materiality Assessment Guidance has been released. It provides the most comprehensive explanation to date of how EFRAG sees the application of the double materiality requirement. The guidance itself is still subject to change, but it offers a great indication of the approach companies will need to take.
In order to provide companies, especially smaller ones, with more time to implement the data collection and reporting processes, the first set of ESRSs introduces relief measures for one, two or three years.
Irrespective of their size, every company may opt out of disclosing the expected financial impacts linked to risks from environmental issues for the first year of reporting. Companies can provide qualitative disclosure only on these financial impacts for a further two years.
Additionally, certain disclosures related to own workforce (social protection, people with disabilities, work-related illnesses, etc.) can be omitted in the first year of reporting.
For reporting entities with less than 750 employees, they may omit:
For the first year of applying the standards, scope 3 GHG emissions data and the disclosure requirements specified in the standard on 'Own Workforce'.
For the first two years of applying the standards, the disclosure requirements specified in the standards on biodiversity and on value-chain workers, affected communities, and consumers and end-users.
The EC has decided that many of the disclosures and data points that were mandatory in the first draft of the ESRS should now become voluntary. These include biodiversity transition plans (ESRS E4), certain indicators about 'non-employees' in the undertaking's own workforce (ESRS S1) and an explanation of why the undertaking considers that a particular sustainability topic is not material.
How can I get prepared for the ESRS reporting?
Getting prepared for the ESRS/CRSD reporting leads reporting entities to wonder what "prepared" looks like. No doubt, telling your ESG story properly takes the establishment of a strong data strategy, coupled with a technology and governance approach to manage technical complexity, and meet legislative and stakeholders' demands.
If you're pondering your next moves to prepare for the ESRS, we recommend starting with familiarising yourself more with the ESRS requirements, educating and upskilling your organization, identifying what you need to report, which type of data you are going to collect and how. An important add-on here would be to verify internal XBRL (eXtensible Business Reporting Language) reporting capabilities.
Our BR-AG experts and technology that support standard-setters like the European Financial Reporting Advisory Group (EFRAG) in managing the reporting requirements are there for you as well. Equip your teams with the tech, advice and process optimisations that they will use for years to come to manage the company's ESG disclosures and data.
Now, it's time to improve the processes that you have in place. Download our ESRS Implementation Guide to understand what steps you need to take to achieve ESRS excellence and how BR-AG may assist you in:
Making improvements across the preparing and reporting process to comply with ESRS/CSRD requirements
Setting ESG scope and verifying the quality and consistency of the data with ESRS Report Checklist
Navigating and interpreting ESRS reporting requirements, and enhancing report preparation, including the format to be used for reporting (XBRL)
Staying on top of the ESG disclosure landscape and market trends across industries and countries with BR-AG's expert guidance.